My girls think it's hysterical that my first hockey shin guards were improvised, soccer shin guards paired with foam knee pads. That didn't hold me back. I played one year with boys, starting when I was eight, and then joined the girls' league. I went on to play Division I hockey at Brown University, just as the game was shifting to a more competitive level.
Two weeks ago, I signed the girls up for hockey and myself up to coach. The season has already started, but soccer still fills our Saturdays for another couple weeks. After figuring out that their skates still fit, and Zoe had a helmet, but Mia did not, we went shopping. I bought full sets of equipment the first weekend we decided the girls want to play but we hadn't had time to touch it since. Sunday, they tried it all on, I showed them how to tape their sticks, we labeled it all with their names and color-coded tape (green for Mia, pink for Zoe), and the girls got so excited that they wanted to go to public skating.
October 2013 – Mia 4.25 years old, Zoe 6.75 years old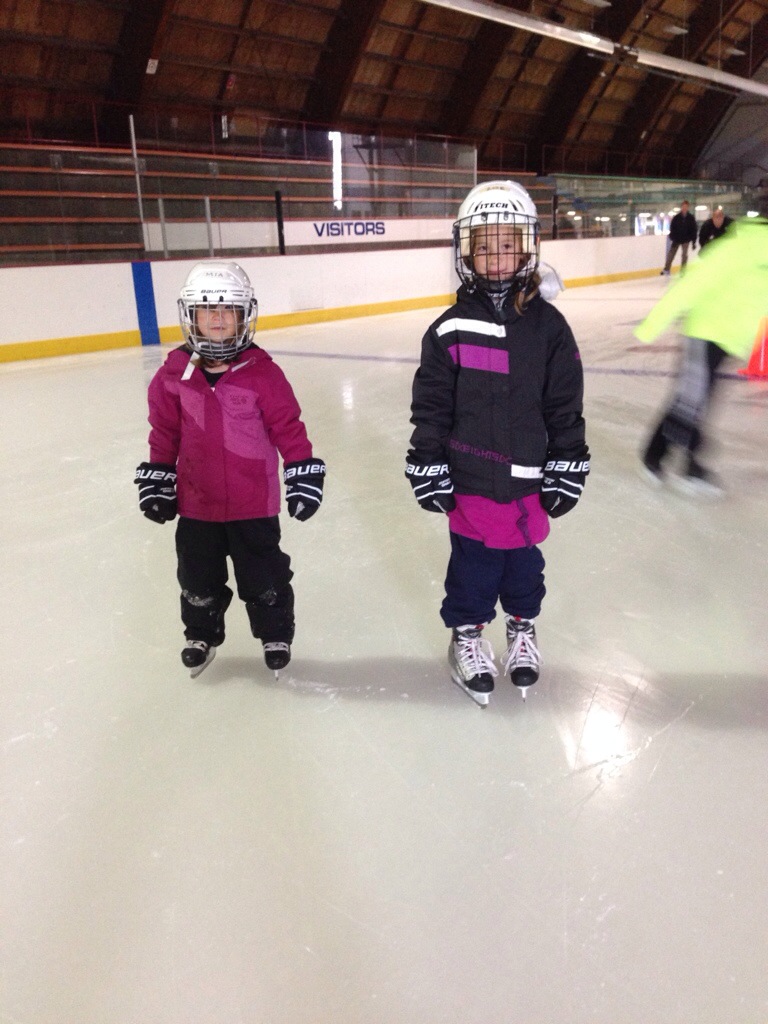 It was not crowded, skating was fun and leisurely. Both girls wore their hockey gloves. Mia brought me her right one and asked for help to find spots for each finger. She kept it on easily throughout the hour of skating.
Both girls picked up where they had left off with their skating after a season of lessons last winter. Zoe was too fast to capture well on video in the low light. She progressed a great deal last winter, which was the first year when it was feasible for me to take both girls skating regularly, both to open skate and to weekly lessons for four months.
Here's a moment when Zoe wanted to skate with Mia. For me, it was so lovely to be on the ice with them both. They needed much less help from me than last year, or any prior year, and I can glimpse ahead that in a few years, they'll be skating circles around me. Zoe told me that she feels lucky that I know all about the equipment and about hockey. She has noticed that most of the soccer coaches are men and it already makes a difference to her to have me there on the ice with her.
In this tiny clip, I captured Mia falling and getting up quickly and easily. Anyone familiar with hockey knows this is the first and most important skill. The notable moment of this video for me is that to stand up, Mia first stands her right foot. Last winter, she used her left foot exclusively. Her right side is the side affected by her stroke. I'm so happy to see her using both sides now to fall and get up. And, I was also happy that she was able to manage her glove on her right hand.
The girls wanted to stay to watch the Zamboni clear the ice but there had been so few skaters that they didn't need the Zamboni. I promised many more opportunities to watch the Zamboni.
Just to show our history of attempting to skate each winter, here's a photo log. We missed one winter when Mia was an infant.
January 2008 – Zoe, 1 year old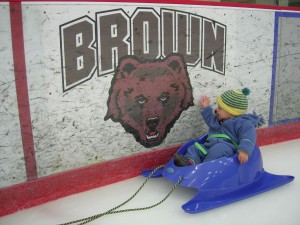 January 2009 – Zoe, 2 years old, with Mara (pregnant with Mia)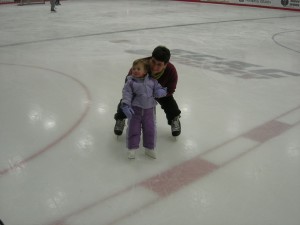 January 2011 – Mara helping Mia get her skates on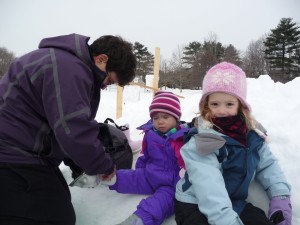 January 2011 – Mia, 18 months, with Mara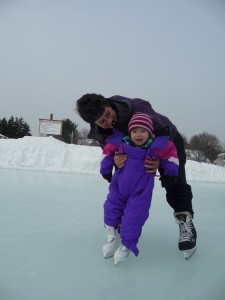 January 2011 – Mia, 18 months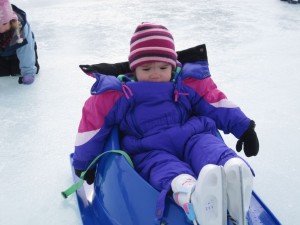 January 2011 – Zoe, 4 years old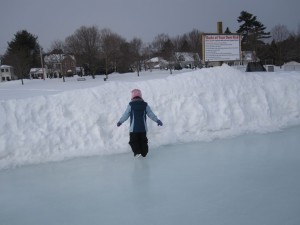 Thanksgiving 2011 – Zoe, almost 5 years old, with cousin Alex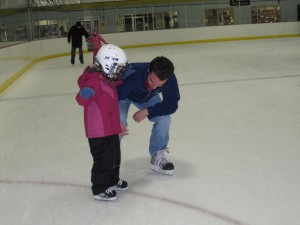 Thanksgiving 2011 – Mia, 2-and-a-half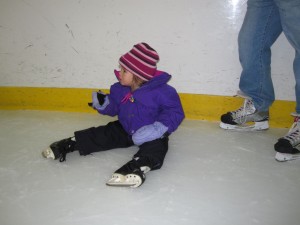 Thanksgiving 2012 – Mia, 3-and-a-half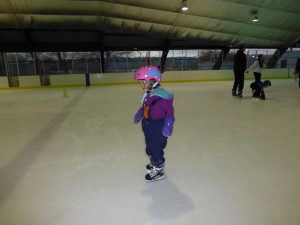 Thanksgiving 2012 – Zoe, almost 6 years old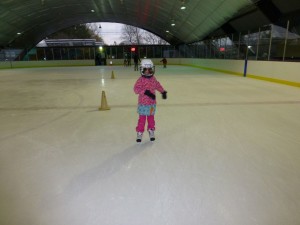 October 2013 – Mia 4.25 years old, Zoe 6.75 years old