Sunday, July 10, 2016
On Sunday, July 10, 2016, Zoe, Mia, and I arrived at the trailhead at the Mount Washington Cog Railway Base Station parking lot just after 10 am, and we were on the trail at 11 am. We were not in a hurry as we understood that the forecast was supposed to be improving throughout the day on Sunday and definitely be better on Monday. We headed up the Ammonousuc Ravine Trail. It was about 50 F, not raining as we started.
Note: Click on any of the pictures to see them in a larger size.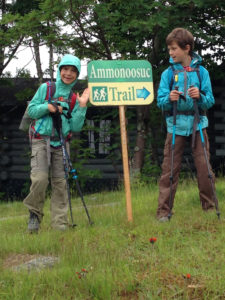 At about 0.3 miles, our trail merged with the one coming from the U.S. Forest Service parking lot. We continued to climb. We took lots of breaks. Roots and rocks are relatively easy going, and there was a lovely sound with the stream all along the trail, with great waterfall views.
The trail got significantly steeper just after Gem Pool, and it was raining too. At that point, we had to put our hiking poles away to use our hands and feet to climb some of the slippery ledge rocks.
There were a few others climbing up or down the Ammonousuc that day, though not very many, most likely because it was not a nice day.
One guy made a big impression on Zoe as he ignored her warning not to step over a rock crevice and he bounded across it.
The girls were faster than me on the big rock scrambles. Mia had led most of the way on Sunday, and they worked together to coach each other on foot and hand holds and also to coach me.
The girls made it to the top of the final ledge section and yelled down that they could see the hut!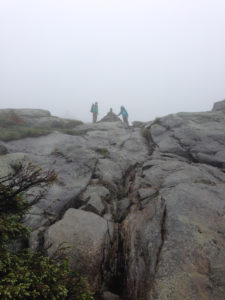 We arrived at the Lakes of the Clouds Hut at about 4 pm, so the 2.4 miles and 2300 vertical feet took us about 5 hours.
We were happy to go inside, hang up all of our wet gear, and find our bunks. There was a super eager ten year old girl who was helping the hut croo as we checked in. As it turned out, she was part of a party of ten sharing our fifteen bed bunk room. Her grandfather takes his clan to a hut every year.
The girls had hot chocolate, while I had tea, and we shared some cornbread and some kind of baked bar made by the croo.
The girls made friends, ran around in socks or bare feet as we hadn't brought any shoes other than our hiking boots. We found our three bunks, built into the wall, all three stacked one above the other. I was on the bottom, Mia in the middle, Zoe on top.
Dinner was served family style at 6 pm, a four course meal: black bean soup, subalpine salad, stuffed shells, broccoli, and lemon poppyseed cake. The hut croo entertained and served us. We sat at a table with the family of ten.
Our final two bunkmates arrived just before dinner, a mother and her fourteen year old daughter.
Zoe found it helpful that we had time to get to know people before we had to go to sleep, so for her it was like sleeping in a room of friends, instead of strangers.
Quiet hours are 9:30 pm to 6:30 am. Mia was asleep well before quiet hours, Zoe just after. I took advantage of the free earplugs offered, and we all got a decent sleep.
Monday, July 11, 2016
Our original plan had been to climb Mt. Monroe on Sunday afternoon or evening, but the weather didn't cooperate for us or anyone else. So, along with some others, we decided to do it before breakfast. It's only 0.3 mile and 360 vertical feet from Lakes of the Clouds Hut up to the summit of Mt. Monroe.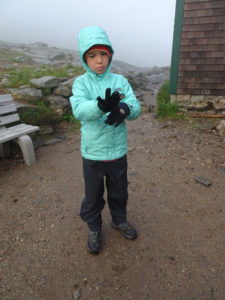 Mia putting on gloves before climbing Monroe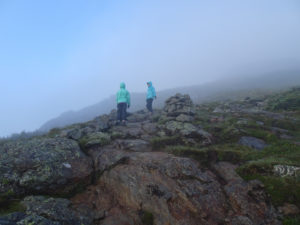 Girls on the way up Monroe.
We made it up and down in about 45 minutes. Some kind folks took a couple sets of pictures of us. It was misty and wet on the climb. We saw a rainbow, and got some views. It was also very windy and quite cold. We all wore hats and gloves and rain pants and jackets.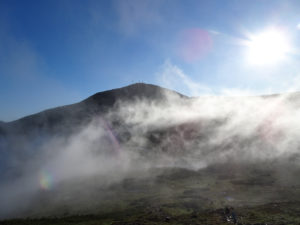 View of Washington from Monroe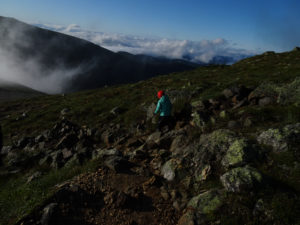 Mia on way down from Monroe
Breakfast was served family style: oatmeal, eggs, bacon, pancakes, tea, coffee, hot chocolate, juice.
The croo put on a Cinderella skit as they taught us how to fold up the wool blankets on our bunks. My girls and I had brought sleeping bag liners which worked well on the bunks with the provided pillows and blankets.
We loaded up our backpacks, and headed outside to start our hike at about 8:30 am. Some others took a picture of us in front of the hut.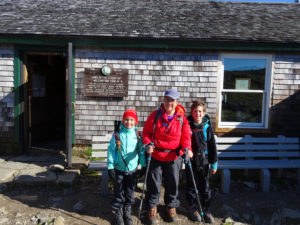 It's about 1.5 miles from the hut to the summit of Mt. Washington, and 1270 vertical feet. It was clear and sunny, though windy still. The girls started out slowly and we had to adjust clothing, take several breaks, and sort out whether Mia or Zoe was going to lead. Most of the other guests who had stayed at the hut passed us on their way up Mt. Washington, and that was definitely discouraging to the girls. Around this time, Mia also realized that she had been the youngest person in the hut that night. There were some other nine and ten year olds close in age to Zoe, but nobody Mia's age. Zoe told me that she'd like to have a Feelings Class that took field trips then spent time thinking about and writing about the feelings of other classmates. I was in awe as she invented this concept in her mind, clearly recognizing her own spread of feelings and those of Mia and me as we confronted the elements and our own limitations.
As we were approaching the summit, a student intern with the U.S. Forest Service approached us to do a survey about use of the Crawford Path. The survey was asking about our experience in terms of our sense of whether it was too crowded on that day and what might make it too crowded. We had to estimate number of hikers per hour, and look at some pictures to see if that seemed too crowded. It was supposed to take us five minutes, but took more like fifteen.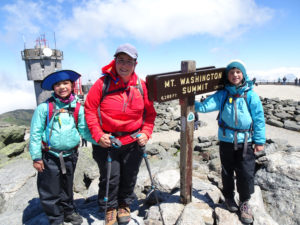 We finally made it to the summit, about 3 hours after we had left the hut. We asked some folks to take a summit picture of us. There were a lot of people up there, most of them had come up by Cog Rail or in cars. There's a full visitor center where we were happy to rest and eat hot food. The girls enjoyed pizza. I had chili. We saw our friends, the family of ten. We charged my cell phone which had run out of power on Sunday.
And, we conferred. I wasn't at all sure we all had the energy for the descent we had planned. Mia seemed really tired and said she just wanted to take a nap. I asked her at one point what she wanted to do and she said she was okay to take a shuttle down. My right knee hurt. Zoe kept going back and forth. She asked what would happen if we got halfway down and one of us just couldn't go anymore. I explained that we had enough food and warm clothes and gear to wait it out until we could go again. So, I posed it to Zoe that I thought we might need to take a shuttle down. She was very disappointed. Mia saw her upset and by then the hot food had reenergized her so she said she could walk it. I checked in again with each of them. Yes, they wanted to hike down, the Gulfside and Jewell Trails as planned, another 4.4 miles.
We all changed out of our long underwear and rain pants and put on hiking pants as it was dry and getting warmer, and would be getting even warmer as we descended. We filled our water bottles and Camelbaks, and set out just after 1 pm.
Zoe led most of the descent. We first had to get off the summit of Mt. Washington and down to the Gulfside Trail. Then, we headed along the Gulfside Trail, crossing the railroad tracks of the Cog Railway, and seeing some trains puttering up and down the mountain. The wind was bothering Zoe, and she decided she really wanted to be below treeline. I was especially enjoying the views and took a number of pictures. We all thought it was super cool when we spotted the Mount Washington Hotel and the Cog Railway Base Station, though the station looked really far away which was a bit discouraging.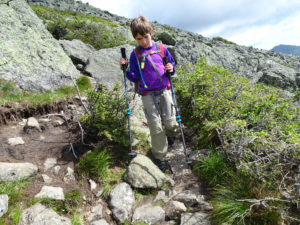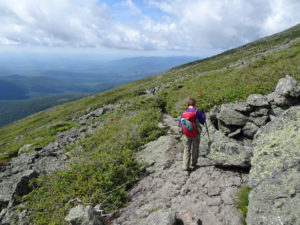 White patch is Mount Washington Hotel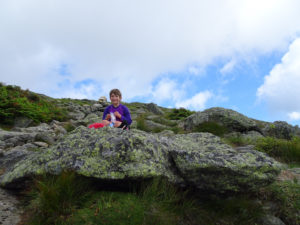 We continued on slowly and took a lot of breaks. There were definitely a lot more hikers out on Monday than Sunday. We passed a couple of the croo from the prior night. They had walked over to Madison Spring Hut and were on their way back to greet that night's guests. They were practically running.
It was interesting to see how when the trail required us to climb before joining up with the Jewell Trail, the girls thought that we were going the wrong way. We weren't, it's just not all down, even as we were on the way down overall. Zoe was trying to see the way that the trail went as there were two sets of cairns and so I studied the map and showed her where I thought we needed to go. It was confusing to her as it didn't seem like a direct way to the Cog Railway Base Station which we could see.
We all used our hiking poles on the descent and it definitely was helpful to maintain balance and to help me cushion some of the pounding for my knees. Zoe started an estimation problem. "If a quarter is about an inch in diameter and there are twelve inches in a foot,… How many feet in a mile? How many miles are we walking? How much money would that be if we lined up quarters all along the path?" I loved her questions but I had to tell her that her questions were beyond my mental math capacity in that moment. I was tired.
Mia started to talk to herself in the same sing-songy monologue she often uses in the bath or when she's playing by herself. She was processing everything she'd seen, so there were stories in the snippets I heard about the hut stay, about the various phases of the hut. She was happy and just kept going.
We finally started to go down the Jewell Trail. A large group of fourteen and fifteen year old girls and their chaperones were also descending. We played leap frog with them for a while. Each time they took a break, we passed them, then we'd take a break, and they'd pass us.
The girls explained to me that it wasn't like you immediately went from being above treeline to below treeline. It happened gradually. And so it did. The scrubby pine started to emerge after we'd been careful for hours of stepping on the fragile alpine flowers. Eventually, the trees were as tall as Mia, and then much taller than all of us. One of the chaperones of the group of girls took this picture of us, happy to be back in the trees!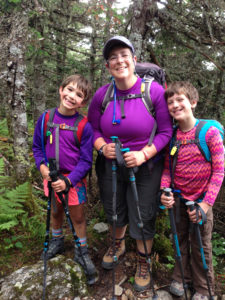 Mia got really tired and started to whine. Zoe didn't want to listen so she went a bit too far ahead. I had to corral everyone together, especially after Mia and I each slipped and I cautioned Zoe that we needed to stay together. I checked in with Mia who wanted to keep going despite some tears. We got low enough that we each had to take off our rain jacket. I stuffed each of our rain jackets into our respective backpacks. We descended further and the bugs came out. They were super annoying. Nobody wanted to stop to put on bug repellant. I eventually did because I couldn't stand it, and I swabbed some on Mia's neck and forehead too. We were all yelling at the bugs and at the missing trail branch that was supposed to be on the left any time now. Actually, the girls were confused as to how the trail could branch to the left as to the left was the slope of a hill going up. they didn't want to go up.
We crossed a stream. I thought we were getting close. I went to look for my map which had been in the pocket of my red rain jacket. Uh oh. My red rain jacket was missing from the outer pouch of my pack where I had stuffed it. The kids were in good spirits at that point. I asked them to rest and eat another snack. I thought I might have snagged the jacket on a tree branch that I had to crawl under. I left them and my pack, took note of the time, determined to only go 10-15 minutes up trail to see if I could find my jacket. Not seven minutes later, I was beyond thrilled to see a family carrying my jacket. They were Austrian, had a couple of older kids, and had traveled in one day the same route that we'd done in two days. They said they'd found my jacket quite a way up the mountain. We walked out the final half mile with them. They even helped us with the last stream crossing which was a bit tricky. And, I shared some tips as they were headed to the Boston area for a few days after their White Mountain adventures.
We arrived at our car at 7 pm, took off our boots, stopped to get gas for the car and salt and vinegar potato chips for the girls, and drove the nearly three hours home without further stops. The girls were amped up and super goofy the first hour of the drive, but then slept the duration. Zoe claims she only slept twenty minutes. I know better. I tried to turn on my music. She awoke and asked me to turn it off. I kept it off as I wanted her to sleep.
Total distance hiked on Monday: ~6.5 miles