As part of my Streak for Mia, I am writing daily in the month of May to raise awareness and funds for pediatric stroke survivors.
In a month, Mia will turn 4. Most people who look at her wouldn't know that she had a stroke at birth. I know this because I've had this conversation many times. Another parent will marvel at how fearless she is, how skillful on the playground. I will appreciate the comment and sometimes add that it's even more remarkable given her early beginnings. Then I share that she had a stroke and most people are completely caught off guard. Really, babies can have strokes too. Mine did.
Here she is at 4 days old, having an EEG to characterize her early seizure activity. She also has a feeding tube in this picture which she needed briefly as I was working hard to reestablish breastfeeding when she was extra sleepy because of the antiseizure medications.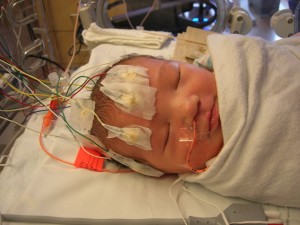 I see her stroke in everything she does. I see some of her quirky patterns of movement. I see all that she can do, all these newly emerging skills like her bicycling and monkey bar feats, and it all seems that much more significant because there was a time when I really didn't know how her stroke would affect her.
I have looked with these eyes, seeing everything and doing everything to ensure the best possible learning environment for Mia. I've worked hard to find the right balance of approaches, some combination of Feldenkrais, occupational therapy, constraint induced movement therapy, and fun everyday life with me and Zoe at home and with friends and teachers at preschool. I've managed countless doctor's appointments, navigated the IEP process, advocated for Mia with each new set of therapists and caregivers. All the while I have had an ongoing sense of not know if I am doing enough or maybe I am doing too much. Self doubt like this is hard to grapple with when life feels a lot like treading water. Being a single mom to two young girls while working full time is already more than enough to fill my days. Adding in the extra work of tending to Mia's special needs has kept me just this side of survival mode for most of the past four years. Each year as we approach her birthday, I have a little bit of PTSD as I remember how intense it was at the beginning, the not knowing was as intense as the actual day-to-day realities.
But, here we are, approaching four years and I am starting to feel really different. I feel great joy at seeing Mia blossom in every way. I've been able to make enough time and space to blog here, to share some of our exciting triumphs and ongoing challenges. I have enough perspective to celebrate our accomplishments as a little family.
We have a dinnertime ritual of sharing a rose, a thorn, and a bud where the rose is something good that happened, the thorn is something challenging, and the bud is something that you're looking forward to soon. Tonight, I shared a combination rose and bud. I told Zoe and Mia and our au pair that I am really happy because today, I got e-mail from Dr. Karen Pape whom I wrote about in my Neuroplasticity post and wrote to within the past week with some questions and observations. She replied today and wants to feature excerpts from my Monkey Mia post in her blog and direct her readers to my blog. This feels like such an honor.  Her vision is maximal recovery from early neurological injuries so each child can achieve his or her personal best. At the dinner table, we all celebrated the news, Mia for learning the monkey bars, Zoe for being her inspiration and cheering her on, Citlali for taking her to the park and sharing the joy I have in seeing these skills emerge. What a gift.
All the while, Mia feels like she can do anything. And, that's by design. Here she is enjoying a rope swing yesterday!