Mia and I like to joke that Zoe is becoming a Penderwick. You'd agree with us if you heard her exclaim things like, "Mama, Jane just said she's lost count of how many times she has read 'A Little Princess'!" We are into year three of our Reading Streak, that is reading aloud every day and logging our books.
To get to 800 days, we've had to invent some new rules. Guest readers are allowed and make it possible for me, Mara, to take a break from reading and parenting every once in a while. Zoe was recently sick and spent an entire day on the couch listening to "The Penderwicks on Gardam Street." She fell asleep in the evening before Mara had a chance to read to her. We counted that as part of our streak anyway.
Coming out of her illness, Zoe decided to write to Jeanne Birdsall because she really can't wait until the fourth Penderwick book is published in 2015. She tells me that we'll keep on reading the three existing Penderwick books over and over until the fourth book becomes available. I keep introducing other options, and we come back to the Penderwicks again and again. This reading streak has echoes of life and parenting, dramatic tension, resistance, repetition. Here are the letters and art. Jeanne Birdsall has seven pets which is totally fascinating to Zoe since we currently have zero pets, having lost two fish and one hermit crab to the negligence of young children and their busy mother.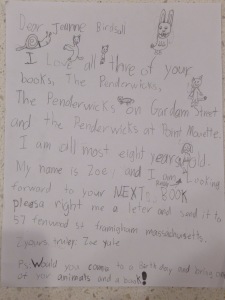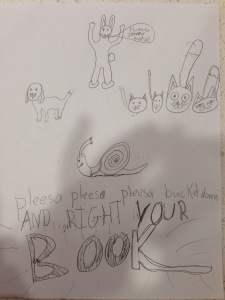 We are definitively done with the Little House books after traversing five generations of Little House girls and women over many months of reading aloud together.
Mia has an entirely different relationship to the Penderwicks and to the reading streak in general. There was the phase in which we read "Charlotte's Web" something like eight times in a row at Mia's repeated request. But, then there was the series of weeks in which Mia simply asked me for addition problems in lieu of her reading time. Other nights, she'll want to play Go Fish or Crazy Eights. In the car, on a recent drive to Ithaca, we alternated hours, one hour we'd listen to The Penderwicks at Zoe's request, the next hour we'd have "quiet" at Mia's request. We did recently read "Matilda" which Mia chose from a stack I brought home from the library. Much as she sometimes protests "so many words," I do believe Mia is listening too. She and Zoe were making up sounds and rhymes today about Jeanne Birdsall and Jane Goodall.
Our recent trip to NYC was made more fun by a quest to visit the Met as we'd just read "From the Mixed Up Files of Mrs. Basil E. Frankweiler." Zoe was thrilled to find the mummies and see the fountains and Etruscan sculptures. Mia was tired and most interested in the gift shop where we found some novel toys and crafts.
In the summer, Zoe asked me one evening, "Does Einstein really exist?" And later, "How did they take his brain without killing him?" The questions continued so I said I have a book about him, "Einstein, His Life and Universe" by Walter Isaacson. It was my mother's. I haven't found time to read it. So, I pull it down off of the dusty shelf, and Zoe starts paging through the 675 page volume, asking if I'll read it to her after we finish all our "Rose" books, and lands on the epilogue. "This is the chapter that mosts interests me, 'Einstein's Brain and Einstein's Mind'." She made a plea for me to read it, "Right now!" And, of course, I did. She listened to the whole epilogue, asking more questions. As I read one passage that quotes Einstein's fundamental creed, "The development of science and of the creative activities of the spirit requires a freedom that consists in the independence of thought from the restrictions of authoritarian and social prejudice." Zoe remarked, "He's really smart. I don't know most of those words." She lugged it upstairs and continued to study the contents, reporting that there's a chapter on "Divorce" and "a girl named Elsa" (think Frozen as do many 7 year olds), and asking, "What's a Red Scare?" So, then I was trying to explain Communism and Democracy. But, later when I brought a close to the usual upstairs bedtime reading before she was ready, because we'd taken time out for Einstein, she lost it and we had a bedtime tantrum. Did I mention that while I was reading the epilogue to Zoe, Mia was blowing a high-pitched whistle loudly in protest?
Our reading streak continues, and while we started with a modest goal of making it to 100 consecutive days of reading aloud, 1000 now seems startlingly within reach. As always, we welcome suggestions on titles, authors, series, and all genres that might interest two girls, ages 5 and 7.