"I like how this book has stories. It works well for how we read now."
Zoe shared this as we finished up a chapter about Witch Hazel in Braiding Sweetgrass by Robin Wall Kimmerer, our current book. We just completed three thousand days of reading aloud on December 12, 2020. When we began keeping track of our Reading Streak, Zoe was in kindergarten. We started reading chapter books before that, but that's as far back as our logs go.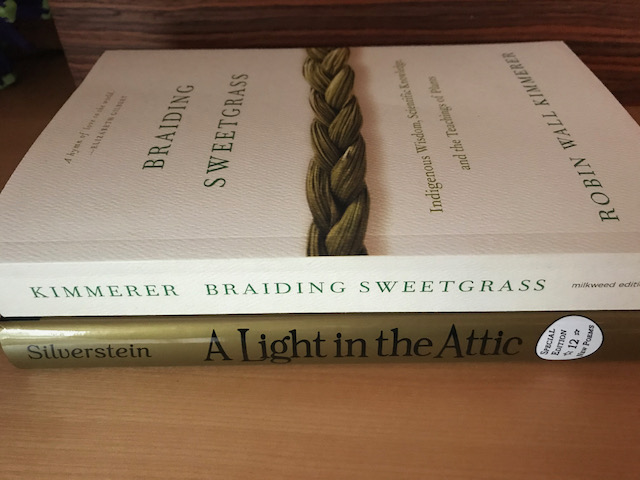 We read for minutes now each day, not the hours we read when her appetite for listening could outlast my voice. These moments of connection tie me to my nearly fourteen-year-old daughter in a way that remains sacred to us both. She invites me in for this time each day to share a story or part of one, sometimes only a paragraph.
We negotiate which books to read. Nonfiction seems in favor. The National Team then Hidden Figures. We tried Maya Angelou's I Know Why the Caged Bird Sings, and after a week, Zoe asked for something else, something she didn't want to take from me and read on her own. I proposed a few. She agreed to Braiding Sweetgrass as it had piqued her interest at her nature camp this past summer when a counselor read a passage. It fits with her environmental and social justice passions.
I had listened to enough of it as an audiobook to know that there are sweet passages about relationships between a mother and her daughters, that it weaves science, poetry, history, politics with phenomenal stories and poetic language.
Three thousand days is worth marking. I don't trust the user error in marking our daily logs so I relied on the computer to tell me when it would be two-thousand-nine-hundred-and-ninety-nine days since September 26, 2012. It is Hannukah this week, so on Sunday, our three thousandth day, I decided to give each of my girls three thousand pennies worth of books, that is gift cards to a local bookstore for 30 dollars. They may each choose two or three books.
This reminds me of one childhood birthday when my two aunts gave me some seemingly large amount of money to spend at a bookstore. I came away with a pile of books, and still remember the freedom and joy from choosing them.
I also gave them each two books. I gifted Zoe our current read-aloud, Braiding Sweetgrass, because Hoopla kept losing our place on the library-borrowed e-book. I chose Megan Rapinoe's new book because we read about the US Women's National Team for soccer and I knew Zoe would enjoy another perspective on those events. She read it yesterday in one sitting. This is why we mostly get books from the library.
For Mia, I chose A Light in the Attic by Shel Silverstein and a beautifully illustrated book about the periodic table. But, first, we need to finish Ogden Nash's Zoo. Mia and I don't keep track and we sometimes skip days. She favors poetry currently.
In a time when we have been mostly housebound for nine months, having this small daily ritual with each of my daughters has kept us connected. Reading together is a doorway into other conversations about the books, characters, events, and life.
For me, looking back on all the books we have read in three thousand days, or eight years and a few months, I see growth and possibility. Using the braiding metaphor, we have woven together a love for words, appreciation of books, literature, a quest for knowledge, and time together. I had no idea it would last this long, even though five-year-old Zoe said she wanted to read like this for more than three thousand days. It may shift forms still, but I am now certain that this reading streak of ours will endure in our hearts and minds. Consistently showing up breeds that sort of knowing.