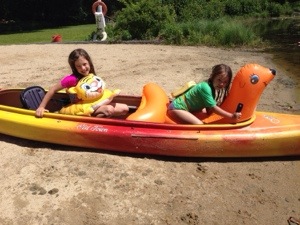 A week from tomorrow, Zoe, Mia, and I are flying to San Francisco for fifteen nights in California. I'm making lists, trying to find things, working on packing after the girls are asleep, and some when they are awake, pouring over maps, contacting old friends, and making plans. Earlier this week, Zoe decided that she really wants to bring her American Girl doll, Sage, to California to show her cousin Alison who is getting married near the end of the trip. These cousins have bonded over American Girl dolls. I said no. I've been telling my girls that they are pretty lucky, getting to go to California at ages seven and five.
I first arrived in California twenty-three years ago, the summer after I graduated from college, for an internship with the United States Geological Survey (USGS). The summer before that, I spent several weeks at a geology field course in Wyoming and South Dakota. My hard work earned me this internship, and a wise professor of mine helped me contact one of his colleagues at the Menlo Park office of the USGS to see if he could use some help. He could and so it was that I got to join his field crew in Mammoth Lakes, California, working with five guys, driving a 4-wheel-drive government truck around mountain roads at night to measure crustal deformation with a two-color laser geodimeter. By day, my field crew buddies taught me to recreate – mountain biking, rock climbing, hiking, and backcountry skiing in winter. I was lucky then and in the ways that life is circular, here I go again, retracing some of my path through California and eager to share it with my girls.
Back then, I was twenty-one, fresh out of college, and keen to drive cross-country to begin my adult life. My father had died a few months earlier of a brain tumor. My mother threatened that she would drive with me if I didn't find someone else to make the cross-country trip. So, I found Jenny on the ride board at Brown University, looking for a ride to San Francisco. I loaded my little red Honda Civic with my graduation gift mountain bike standing tall atop the car, picked up Jenny in Ohio and taught her to drive stick shift as we meandered to San Francisco. I vaguely recall dropping off Jenny and sharing a meal with the eccentric family that was hosting her in San Francisco. I had friends in Palo Alto then as I do now, different friends, but a place to stay nonetheless. I checked in to the Menlo Park office to do some paperwork and then drove back east over Tioga Pass to the East Side of the Sierras to learn my field job.
The job itself involved a lot of driving on mountainous dirt roads at night to set up retroreflectors for the laser to point at for measurements. About one week out of each month, we took the show on the road to other temporary networks we monitored throughout California. I was able to extend my summer internship through the end of the year. It was eye opening in so many ways. Perhaps the biggest was that it was a pause in my life from the achievement of school, before "real" adult pursuits. It was well-timed as I was still grieving my father's death, and welcomed the mountains to explore and inspire.
As I got restless intellectually after some months, I applied to graduate school for a Ph.D. in geophysics, both on the East Coast and on the West Coast. I visited both of my top schools. On the East Coast, an MIT professor asked me during my interview, "Have you traveled much?" I thought I had and rattled off places I had been in the United States, and on a few family and school trips to Europe. I think he was trying to sell the travel opportunities in a field focused on studying the Earth. On the West Coast, I stood on the balcony of the beautiful redwood building that is the Institute of Geophysics and Planetary Physics, part of Scripps Institution of Oceanography, University of California, San Diego. The Pacific spoke to me. I could easily imagine spending years there. And, I did. Five to complete my Ph.D, and another year as a postdoc. Perhaps that MIT prof had planted a seed too as I traveled extensively, spending nearly a year abroad of those five years of graduate school. I spent a summer field season in Indonesia, took a sabbatical with my advisor in France, participated in research cruises in the Southern Ocean and off the coast of Baja California. And, while in La Jolla, I studied, researched and swam around the pier with friends and colleagues most days from April to October each year, as long as the water temperature was at least 64 degrees.
These are some of my stories that I want to share with my young girls on our trip. Our planned itinerary is oddly similar to my own route over the seven years that I called California home. We start with visiting friends in the Bay Area, then Yosemite, then the East Side of the Sierras, then San Diego with extended family for my niece's wedding. Both of my girls and their three young cousins are all in the wedding.
I plan to mail our clothes for the wedding sometime this week so we don't have to worry about keeping them safe through the mountains and driving adventures. I'm attempting to connect with friends along our route, including the lead guy on that USGS field crew who is still on the East Side, and some of my book group buddies from a book group I cofounded with other women in science seeking community way back in 1993 that is remarkably still active.
I may blog during our trip, or I may wait until we return. Meanwhile, back to packing! There's an awful lot that needs to happen here at home and at work for me in the next week but indulging in these memories and sharing the anticipation helps me prepare too.