This is one in an ongoing streak of posts everyday through May to raise awareness about pediatric stroke. If you're able, please contribute to my fundraising efforts.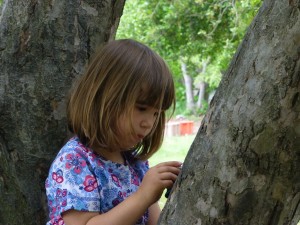 This vision statement below is also something I had to write to prepare for Mia's Individualized Education Program (IEP) meeting on Friday. I've been writing this kind of statement at least once a year since Mia was an infant. Before she turned three, she had Individualized Family Service Plan (IFSP) meetings and documents. Now that she's three, she has an IEP.
Last spring, I was very anxious as we approached her first IEP meeting. When she was receiving Early Intervention services from about 1 month until 3 years, she qualified simply due to her diagnosis. They have a list of diagnoses that automatically qualify and stroke is on it. Every six months, they would adjust her services based on her developmental needs but there was never a question of her not qualifying. The Early Intervention program is pretty warm and fuzzy, at least in our experience. They made house calls to visit Mia at home or daycare, and the support is for the whole family. We didn't need many of the supports they could have offered but I felt glad knowing that if someone needed help with transportation or interpreting what doctors were saying, they'd do all that.
The rules change once kids turn three. Services are only approved if a child's impairment limits their ability to learn in school. I educated myself by attending a couple of workshops run by Federation for Children with Special Needs. These workshops scared me. The parents who teach these workshops have become advocates and teachers because of really awful situations where services were denied. I feared a very adversarial first IEP meeting. I took our former physical therapist with me to that meeting. The meeting was fine. The public preschool occupational therapist said Mia barely qualified. The public preschool physical therapist said she didn't qualify. That was fine with me as I wanted Mia to have occupational therapy but not physical therapy. I requested that Mia get to work directly with the occupational therapist instead of the occupational therapist assistant. I also requested an 8 am time slot. All of my very reasonable requests were honored and we have been working with the same therapist since September. She's told me that she plans to recommend Mia continue occupational therapy one more year so I'm not particularly nervous for Friday.
Here's the vision statement.
Vision Statement for Students Eligible for Special Education
Parent: Mara
Student: Mia
1. My child's strengths are:
Mia is happy, curious, motivated, has good attention, perseveres, has strong problem solving skills, and is very empathetic.
2. My child's areas of significant interest are:
Mia loves books, climbing, jumping, running, riding her bike, doing the monkey bars, talking, singing, puzzles, arts and crafts, playing with her sister and her friends.
3. My concerns about my child's educational progress are:
Given Mia's medical history and limited functional use of her right arm and hand for fine motor tasks, I am concerned primarily with optimizing her dexterity for an increasing range of tasks of daily living and learning. I am concerned about both fine motor skills needed for academic tasks like coloring and writing and skills needed for independence in manipulating the objects in her daily life like clothing and food containers so she can be as independent as her peers with toileting, managing her snack and lunch, and helping in the classroom.
4. My goals for my child over the school year are:
I expect Mia to adapt to her new preschool classroom (transitioning in June) and fully participate in all classroom activities developing socially, emotionally, physically, and cognitively as appropriate for a 4 year old.
In terms of Mia's functional use of her right hand and arm, my goal is that Mia gains control and dexterity to do increasingly complex functional tasks that require her to relax excess tone, supinate her arm, and use differentiated movements of her thumb and fingers. I believe that strength and dexterity support each other. As Mia can do more, she will gain strength, which will support her further development.
5. My vision for my child over the next three to five years is:
Over the next three to five years, I expect Mia to enter elementary school with her peers, capable of mastering the independent skills of learning and the life of the school needed to thrive in her early elementary years.