Continuing my writing and fundraising Streak for Mia, I am going to attempt to share something that's tougher for us right now.
Zoe was nearly two-and-a-half when her world was changed by the birth of Mia. She had my full attention for all that time. It can be hard for older kids to adjust to a new member of the family under ordinary circumstances. But, the days, weeks, months, and years since Mia's birth have been a little out of the ordinary, with a crisis time around when Mia was diagnosed and then a lot of ongoing extra needs that have consumed my time and energy. Zoe notices. It'd be hard for her not to notice.
Zoe is 6 now. Here she is this morning at our CSA farm where we spent the morning working and playing. Zoe and Mia got to spend a couple hours in the Children's Garden while I helped plant and weed in the flower beds.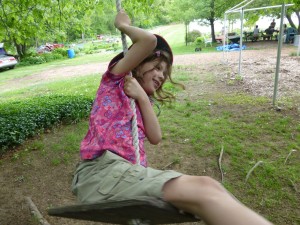 Zoe is delightful, smart, funny, very intense, and rather competitive. She is quite agile, loves art, is comfortably speaking Spanish at school and with our au pair, and has a phenomenal attention span for chapter books. The reading streak that Zoe and I have going is now on day 234! Mia sometimes joins us but it's Zoe who is the one asking for and choosing book after book, requesting chapter after chapter. It's the one sustained thing that she and I have together that feels very connecting for her.
She's had a challenging time at school for the past 5 months of Kindergarten and just got a new teacher two weeks ago so we're in a stressful transition time, working toward a positive end to the school year.  I've been struggling since January to make sense of her difficulties at school. I have had many theories and done many experiments to try to help. The latest one seems like it may be closer to the root. Clearly, there have been classroom issues or they wouldn't have abruptly changed the teacher with just seven weeks left in the school year. But, now that I know the kind of behavioral challenges Zoe is having at school, I see many of them seem to be related to the world not being fair. It's not.
Last night, I started to talk with Zoe in more detail about what happened when Mia was born and in the NICU and how that might have felt to Zoe. We talked about all of Mia's appointments and all the extra time she gets with me because of her stroke. Zoe was engaged, attentive, and at times upset and angry. She also had new insight when she told me, "I'm lucky." I asked her why and she explained that she only has one thing wrong with her, big tonsils. She doesn't like it when the doctors say she has big tonsils, she feels self-conscious about it. She asked me just last Saturday on the way to the doctor how many doctors she has compared to Mia, and she told me that Mia has had two problems – her ears and her right hand. I helped her reframe to focus on Mia's stroke. Mia was in the car.
After our talk last night, I glanced at Facebook and Zoe was still with me. She saw a picture of a boy with some kind of bandage or cap covering his head and asked about it. I explained that boy had just had a hemispherectomy, a procedure to take out part of his brain so he wouldn't have seizures any more. She had lots of questions and more empathy than usual. We talked about how that boy may have a sister or brother who might have feelings too. She got it. I hope we're making progress. It's true, life is not fair.
At every age and stage, Zoe is a bit older, a bit ahead on her ability to ask questions and that's pushing me to figure out the language to use in front of Mia and Zoe to help them both feel whole, well, and fully part of our little family.
Here they are, in the Children's Garden sandbox, playing nicely together.