This morning, I mentioned to my girls that a year ago I had posted about their pogo sticking feats. Zoe reminded me that she led the way and inspired Mia to want to learn this new skill. When I commented that Zoe hasn't been pogo sticking lately, she said that she has outgrown the one pogo stick we have so it's time to upgrade.
Here's Zoe in action with Head-and-Shoulders thrown in for fun in March 2017 at age 10.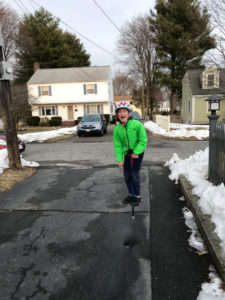 Zoe's tricks on the pogo stick motivated Mia to master her own tricks. A year prior to this, Mia had a hard time making the pogo stick go down.  Here is Mia "one handed" with her tongue out to help focus! Variety is one ingredient in healthy movement development so part of what I am sharing this month are many of the different activities Mia tries. Pogo sticking requires balance, timing, and comfort with falling. Here's Mia in 2017 at age 7.
And, here is Mia this year in 2018 at 8 years old.