More than a year ago, I bought twenty-five feet of 2″ diameter untreated manila rope from Knot & Rope Supply, as recommended by another mom with a stroke survivor daughter. That mom and her husband have built all kinds of outdoor and indoor structures for their daughter's therapy and rehabilitation. I had tips, pictures, inspiration, just not enough time to ever sit down to splice the rope to itself which was my planned next step.
Over the past few months I've been decluttering at home and the box of rope was just taking up space until I contacted our excellent arborist, John Platt. Over the past decade or more, I've had John help with thinning overgrown trees, removing a tree, and hanging a more traditional swing. He's quite versatile and I was sure he could help with this project.
We set a time for 5 pm one weekday afternoon in early June and that evening's entertainment was  top notch. You can click on any of these pictures in this post or others to see a larger image. I'll let the pictures tell most of the story.
John arrived with a huge ladder and gear. The girls were entranced. He looked at the tree, we talked about whether the rope would be mostly a swinging rope or a climbing rope. I think it's more for climbing though a little swinging may happen. There isn't a huge space for a big swinging rope. Eventually, John helped us pick just the right spot.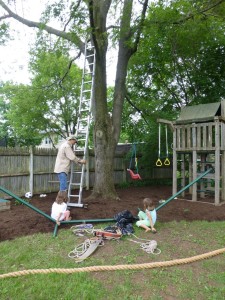 We had an interesting conversation about knots. I have a lot of sailing experience from my youth and still can tie many different knots. John had to get creative with the knot tying to get the big rope up into the tree and to keep it there. He attached his green rope to the big rope.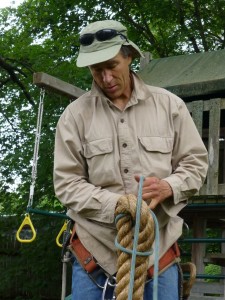 He hauled the big rope up into the tree and tied it to a branch with a fancy knot that used minimal length as we didn't have much extra rope to spare, based on the hanging branch he'd chosen as optimal. I think when I decided to order 25′ of rope, I was thinking of using a lower branch that John rejected as not strong enough.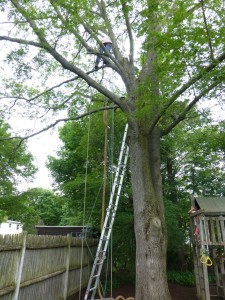 Zoe was captivated, watching him climb the tree.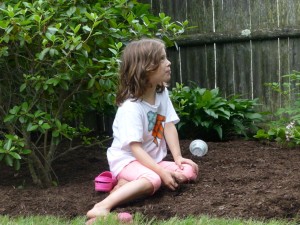 The girls continued to watch from a higher perch.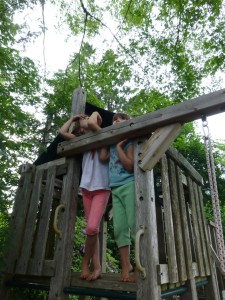 John climbed down the rope to test it out and to tighten his knots up high. He even bounced to make sure it would hold him. He came all the way down and then managed to climb back up again too. No small feat. Remember this kind of rope in gym class? We talked about how these kinds of ropes are probably not in gym classes anymore. Zoe confirmed that.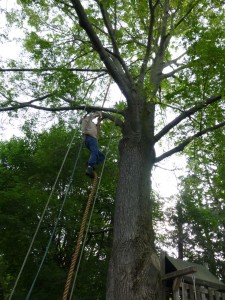 Zoe got a try!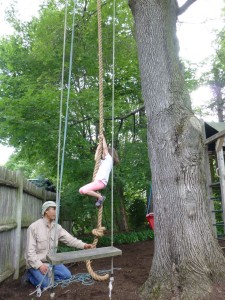 Mia too. You can see how her two hands are positioned differently on the rope. One of the ideas of this rope is that it's so big that as she grows and gains strength to climb and swing, she'll reach up high with both hands to get a nice grip like she's already able to do with her left hand but not quite doing with her right.
We're very much looking forward to sharing our new climbing rope with friends this weekend as we prepare to host Mia's fourth birthday party.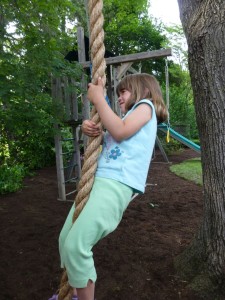 For those interested in this kind of project, the cost of the rope was $92.25 including shipping, and the cost of John's labor and expertise was $95. So for $187.25, we have an awesome new addition to our back yard!