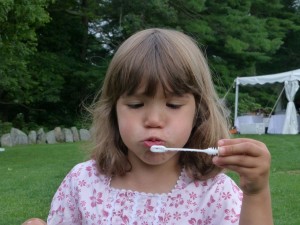 Mia and I went to see her neurologist yesterday afternoon. It took most of the afternoon. She was nearly asleep when we arrived at the hospital in Boston which made her kind of cranky for the wait, compounded by her accidentally spilling her orange juice and then requesting another one. I said no. A young resident came out to tell us it would be another 15 minutes after it was already 15 minutes past our scheduled appointment time. I later learned that the resident is an adult neurology resident on her mandatory 3-month stint in pediatric neurology.
When the nurse came to take Mia's vitals, Mia did not want to get on the scale. I said she weighs almost 40 pounds. She just had her physical. I don't want to fight with her about this as it's not really relevant to her appointment today. Mia then cooperated to get her height measured and to have her blood pressure taken, also both not particularly relevant.
When the resident did finally call us into the room, she asked me some questions that were annoying and not particularly useful, like, "So I was reading her chart, and it looks like everything's been fine since she was 3 months old?" Yeah, I guess, if you define fine as no seizure medications needed since then. I simply said yes. I continued to answer her questions. She tried to engage Mia and Mia decided not to talk but to giggle instead. She asked Mia to touch her finger and then to touch her own nose. She asked her to do it with the other hand. Mia did. She asked her to jump up and down on one foot, and the other. She tried to test her reflexes. It wasn't clear she got the response she was seeking.
After about 10 minutes, the resident went to get the attending physician. Another wait. Mia asked for my iPhone and I gave it to her. So when the attending came in, he had to persuade her to look at pictures in books instead of at the pictures and movies that she was trying to show him of her great skills in skin-the-cat, the monkey bars, bicycling, and others. He asked me more relevant questions, did a cursory neurological exam, had her name various objects and animals in a book and talk about their categories and functions. She sailed through all of this. He said she's doing great.
The resident asked the attending if we should come back in a year. The attending paused to have a conversation with me. I questioned the value of hearing him say that she's doing great. I know that. I explained that we go to the stroke clinic next month and will continue with that every two years until Mia is 10. In the end, we agreed that the resident would write "as needed" on the form, I will call the attending to discuss Mia's progress in a year, and maybe he'll see her in three years when she's seven, if he hasn't retired by then!
A year ago, I was really disappointed that he told me to bring Mia back again in a year.
So, I'm relieved now that he and I were essentially on the same page. These appointments are hugely time consuming and must provide more value than the one yesterday to justify the time. I'm grateful to have had high-quality care from this neurologist since Mia's arrival in the NICU when she was two days old, but we're well past that point. If any new issues arise, I won't hesitate to seek care, and three years is a long time. It's very hard for me to say whether I will think it's worth it to try to go see him again then, and to deal with whatever resident is on rotation at the time.
There's one other thing that bothers me about taking Mia to all these appointments, now at age four. She has to suffer through them too and I think it has an impact, hearing me answer all these questions, hearing me talk to the doctors. I'm totally comfortable explaining everything to Mia but I'd like to reduce the need for Mia to spend hours in waiting rooms and exam rooms, time when she would be better served playing at home or school, further mastering her world.