When Zoe was in Kindergarten, I read The Reading Promise and told her about it and she asked how many days that father read to his daughter. 3218 days. Zoe wanted to beat that. We were already reading aloud most nights, but we started to keep track. Well, we're nearly 2/3 of the way there! It's hard to believe. Two thousand consecutive days of reading is more than 5.5 years. In that time, both of my children have grown so much. Zoe will finish elementary school in a couple months. She's eleven, Mia's nearly nine.
I started reading chapter books when Zoe was four. Mia was not yet two. Zoe's appetite for listening grew until she could listen for as long as I was willing to read, sometimes hours per day, in two separate sessions, sometimes two books at once, one for each girl. We read some books many times, some series repeatedly. You can see our complete list of books on our reading streak page.
Zoe graduated to listening to audiobooks which meant that I was not the only source of read aloud pleasure. She could listen to five or six hours in a row, and often refused to get out of the car after a long drive as she wanted to finish the book. "Harriet the Spy" and "The Penderwicks" were early listening favorites on audiobook.
With "The Penderwicks in Spring" which was first published in the spring of Zoe's second grade year, I started to read it aloud, and my pace was too slow for Zoe, not my reading pace itself, but how many pages or chapters we could read in one sitting. It was finite, and her appetite for words was not. She said, "Sorry Mom, I need to read the whole thing."
Since then, it's been a bit more challenging to choose books that have staying power for our reading streak. They need to be meaty enough to hold both girls' interest, but not so compelling that Zoe wants to grab the book out of my hands to race ahead. We learned about the "Swallows and Amazons" series from a reference in "The Penderwicks" and the first book was really slow. These books are set in the 1930s in the Lake District and Norfok Broads areas of England, a pack of kids on sailing, hiking, and camping adventures without many adults in the action. There are references to "Treasure Island"' and "Robinson Crusoe." And, now we're finishing book 5 "Coot Club" and starting book 6 "Pigeon Post."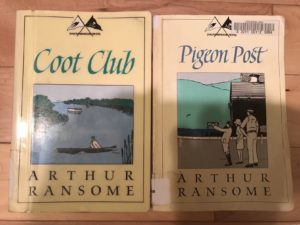 Zoe reads independently, devouring books, and I do not attempt to keep track of her reading. She prefers to read in English, historical fiction or sometimes fantasy, though she can read well in Spanish too. Sometimes I get piles of books for her from the library. More often, she requests them herself from the library and if she's feeling particularly impatient, she'll read directly through the Libby app. But, she prefers paper books. We still sometimes say that she's a "book head" or "lost in a book." The intensity of her reading is such that it's comparably hard to get her to pause her reading as to get her off of a screen. In one reading binge over the Thanksgiving holiday, I know that she read more than 24 hours in a week because she was reading the "Warriors" series on an app called Epic, and Epic sent me weekly reports on the girls' reading.
Mia enjoys listening to the books we're reading now most of the time, but it's not her special thing. She still has a sense of it being Zoe's reading streak. So, when Mia and I have time alone together in the evening, she asks to play games. The hard part about games is that it's more challenging to keep the timeframe in check and it's not easy to stop a game in the middle. Books can be stopped at a chapter, page, or paragraph break. So, with games, I have to say, "We'll play three rounds."
Mia also has become a capable reader in both English and Spanish. Graphic novels are her favorite genre and she reads on her own every day. The most telling sign that Mia's listening is that she comes out with vocabulary I might not have predicted. The most recent was when she started to say, "dismantled." I don't specifically know where or when she learned the word, but it's now part of her working vocabulary.
I was away for four days last weekend, and I called each day to read aloud to the girls from "Coot Club" to keep the streak going. It was hard for them to have me away, and it was both nice for me to get a break and hard to be away. The reading for minutes together on each of those days over the phone was like a lifeline pouring connection into them, giving them my voice and a bit more of this long-running story to carry them off into sleep. On the day we hit 2000, and I told them we had, they asked me to blog about it, to mark the occasion. So, here I am.
Related Posts: